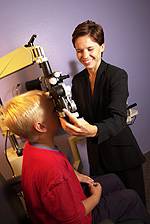 It's been a wonderful summer and it's difficult to believe it's almost over. Moms and dads everywhere are going shopping for bags and books, making sure their children have all the gear they need to ensure a good upcoming school year. It's also the perfect time to take your child in for a proper eye exam. One of the most important things your child needs to succeed in school is proper vision. As children grow, all sorts of developmental stages affect their eyesight. It's important to have an eye exam to catch these changes.
Roughly 80% of learning is accomplished with the use of a child's eyes. But even with this obvious link between eyesight and learning, many parents seem to be unaware of this, and don't get their child's eyes examined often enough. As your child's vision may change frequently, regular eye care is necessary for success at school.
Kids, it's worth noting, have the astounding ability to carry on, despite having a vision problem. As children go through school, it becomes even more important to monitor their vision. Some warning symptoms include not properly seeing numbers or letters, watery eyes and frequent eye rubbing, extra close reading distance, head tilting, and avoiding detailed work.
Not having the ability to meet the visual requirements in the classroom may affect his or her academic growth. New technology brought into the classroom, like interactive whiteboards, can even heighten previously unknown vision problems. Without adequate vision, students may suffer not only in the classroom, but also mentally, physically and emotionally.
If your son or daughter already has glasses, now is a good opportunity to reassess the suitability of his or her current frames and maybe purchase your child new glasses to start off the new year. Even though your child might be able to see well with his or her older glasses, the fit may be wrong or perhaps the optical centers of the lenses no longer align with the child's eyes due to normal development. If children don't feel comfortable in their glasses, they will probably avoid wearing them.
So don't forget to come see us when you're getting your kids prepared for their year. We want to help our young patients commence the academic year with excellent vision.